UOttawa Integrated Food Sciences: Overview
Arry Pandher -
January 14th, 2022
Written by Stephanie Pugh and Matthew Tran
The University of Ottawa and Le Cordon Bleu Ottawa collaborate to provide a unique multidisciplinary curriculum called the Honours Bachelor of Integrated Food Sciences, which is the first of its type in Canada. Its future graduates are equipped to take on leadership roles in any field that relies on food innovation, such as healthcare, education, hospitality, business, or research and development.
Do you want to become a world leader in food sciences and culinary management? Do you want to know what the University of Ottawa Integrated Food Sciences program has to offer? Continue reading and we will show you the ins and outs of this specialty program!
Why Choose the University of Ottawa Integrated Food Sciences?
As a student, you will learn critical thinking skills related to food and nutrition sciences, food safety, customer/client interactions, culinary management, and food business management during this three-year Bachelor's degree. What makes this program so unique?
1. You will gain a professional skill set that will make you stand out
The University of Ottawa and Le Cordon Bleu training are recognized in the Honours Bachelor of Integrated Food Sciences certificate.
The School of Nutrition Sciences and Le Cordon Bleu Ottawa joined forces to create an innovative programme that includes culinary art courses given by internationally recognized chef lecturers. Culinary skills, menu design, food service administration and management, and gastronomy all enhance the degree program's scientific and management curriculum.
Graduates of this programme will have a wide, in-depth grasp of food and nutrition practises, as well as the ability to give strategic leadership and operational direction in commercial settings.
2. Obtain credible experience through a practicum placement
The curriculum culminates with a practicum placement in Integrated Food Sciences during the final semester, which empowers students to gain experience in a professional setting. Students will put classroom theory into practice, collaborate with industry leaders outside of the university, network with Le Cordon Bleu alumni, and build a professional global network to help start their careers.
3. Attend two world-renowned schools in just one comprehensive program
With the evolving significance of food in today's culture, there are a variety of options outside the traditional chef, nutritionist, or restaurant owner roles. Food science, nutrition, culinary methods, management, innovation, and customer service expertise are in higher demand in businesses ranging from commercial food services to manufacturing! This curriculum was created by Le Cordon Bleu and the University of Ottawa to prepare graduates to manage and lead in any sector that involves food.
The program will be delivered in two locations
Faculty of Health SciencesSchool of NutritionThompson Hall – THN 14025 University, Ottawa
453 Laurier Avenue EastOttawa (15 min walk from downtown campus)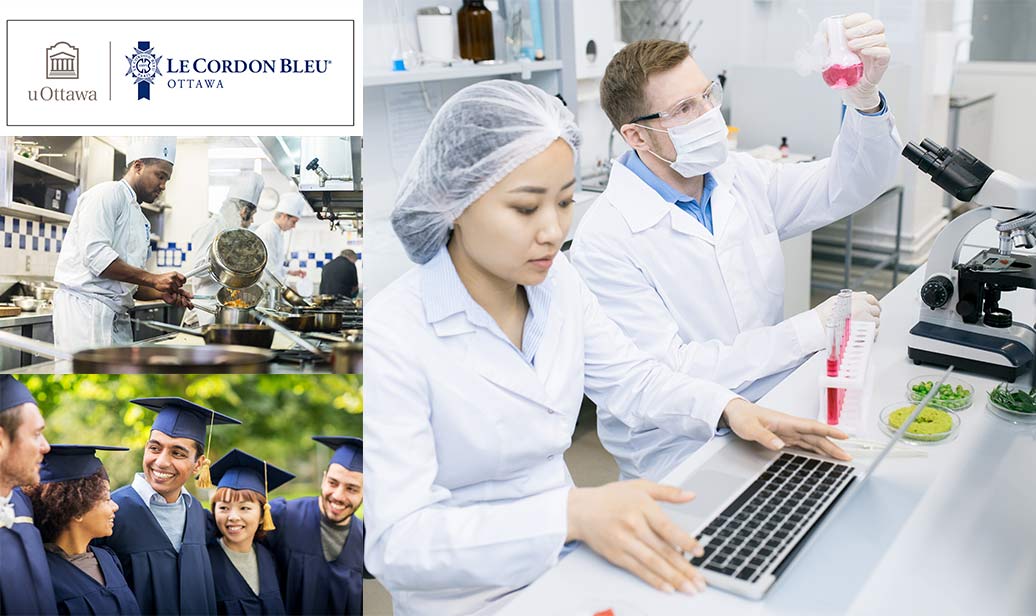 What Do You Need to Know for Admission?
Only 14 slots are available in the Honours Bachelor of Integrated Food Sciences programme. The application procedure begins in the fall of the year prior to your intended start date. It is strongly advised that you submit your application far ahead of the deadlines.
Here are the prerequisites you need for admission:
High school diploma or equivalent (including completion of English, Chemistry, Biology and Math prerequisite courses)
Proof of English proficiency for International Students who have not completed at least three years full-time in an institution where English is the only language of instruction
Since this program is a private partnership between Le Cordon Bleu International and the University of Ottawa, students in this program are not eligible for regular uOttawa scholarships and bursaries, nor for Canadian financial aid. However, don't get bummed out about this!
What is the Cost of Tuition, and are there any Scholarships?
The tuition costs for this program are about $40,000 CAD per year. Although this cost may seem daunting, you should be relieved to know that newly admitted students can receive $23,000 CAD in scholarships! Here is the layout of these scholarships:
Students admitted to the program will receive a $10,000 admission scholarship. This scholarship will be applied towards their tuition fees.
In the second year, students will receive an $8,000 CAD scholarship
For their third and final year, students will receive a $5,000 scholarship
Need Support Getting into the University of Ottawa Integrated Food Sciences?
If you want to get into uOttawa Integrated Food Sciences but don't know where to start, or need more financial assistance, then you've come to the right place! Take our FREE quiz to see if you qualify for GrantMe in just a few minutes.